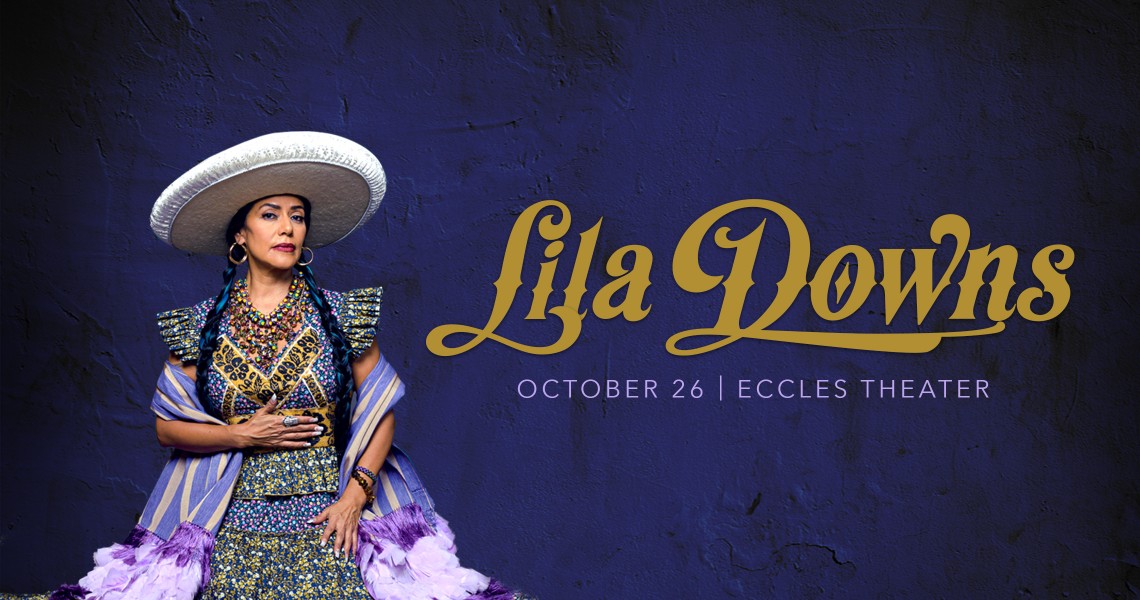 Lila Downs
VOLVER TOUR
Lila Downs ganadora de seis (6) Latin Grammys y un (1) Grammy. Hoy en día, la celebrada cantante Lila Downs, es una de las voces más poderosas y únicas que existen en el mundo de la música mexicana y folklórica.
Con una simbólica presencia arriba del escenario y a través de su emotiva manera de interpretar sus canciones. Lila Downs trasciende cualquier barrera del lenguaje.
La música de Lila Downs captura las influencias desde la música folklórica mexicana y la ranchera hasta las influencias de la música del sur de los Estados Unidos, logrando cruzar barreras generando sonidos que van desde el folk, el jazz, el blues folklórico, indigena, música ranchera y hasta hip hop.
____________________________________________________________________________

Live at the Eccles presents LILA DOWNS on Wednesday, October 26th, 2022 at the Eccles Theater in downtown Salt Lake City. ArtTix is the official source for tickets for Live at the Eccles events.
Winner of 6 Latin Grammys and one Grammy, celebrated singer Lila Downs is one of the most powerful and unique voices that exist today. With a symbolic stage presence and emotional storytelling through song, her singing transcends all language barriers.
Born and raised in both Oaxaca and Minnesota, Lila Downs is the daughter of a Mixtec Indigenous woman and Anglo-American father. She has written narratives of Indigenous resistance protecting the original vision of the sacred plants and food of her Oaxacan culture while keeping the traditions of the American continent. A passionate human rights activist, Lila Downs's lyrics often focus on stories ranging from social injustice to the suppressed Latin American stories of women of indigenous and working-class origins.
Lila Downs's music embraces influences from the folkloric and ranchera music of Mexico to the music of the southern United States, crossing barriers and generating sounds that go from Folk, Jazz, Folkloric Blues, Indigena, and ranchera to Hip Hop.