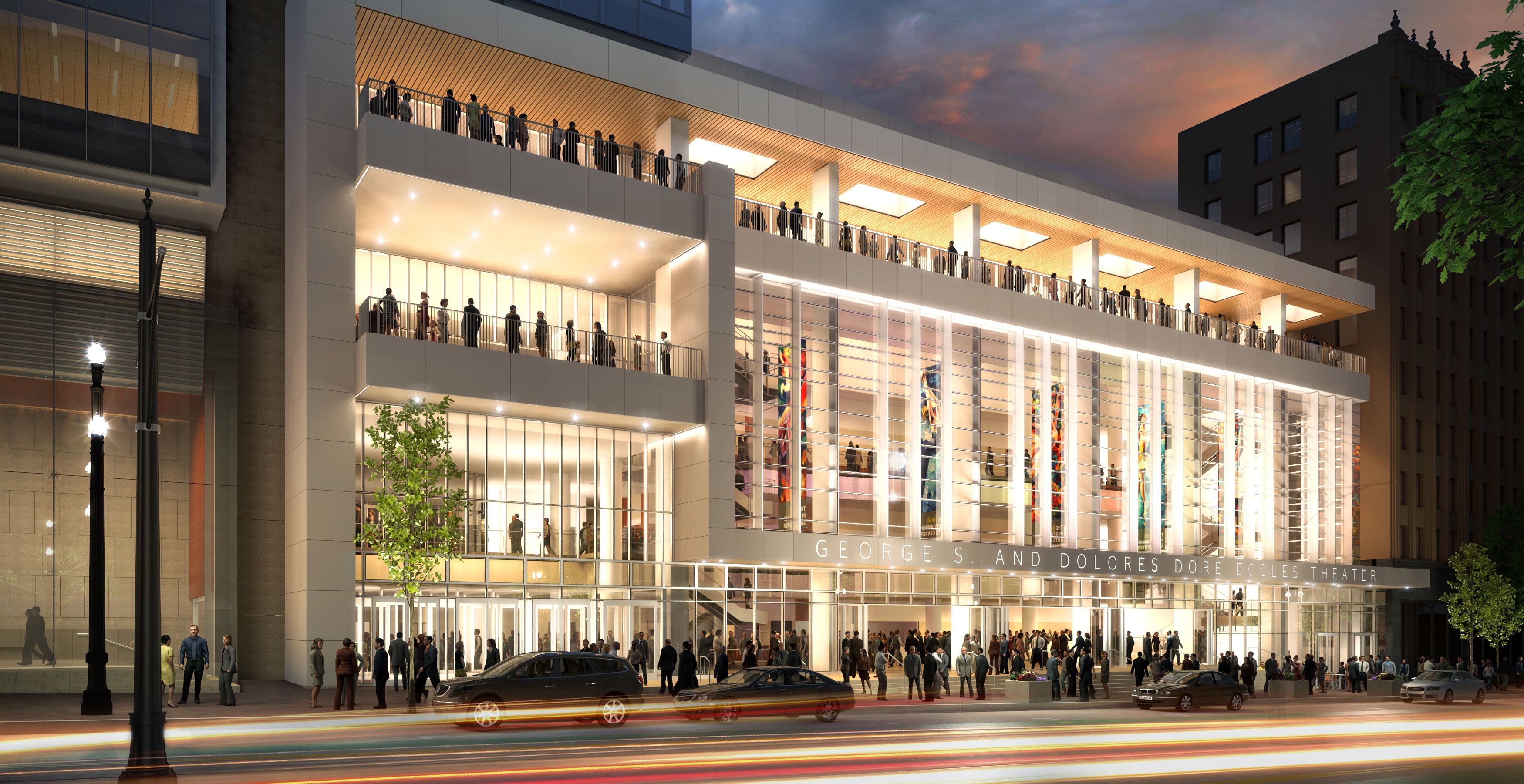 Venues
George S. and Dolores Doré Eccles Theater
The George S. and Dolores Doré Eccles Theater is an exciting performing arts center on Main Street in the heart of downtown Salt Lake City. Designed by world-renowned architect Cesar Pelli, of Pelli-Clarke-Pelli Architects, the theater, featuring a grand six-story lobby with dramatic retractable glass walls, is a beacon of light and energy on Main Street.
Delta Performance Hall

×

Delta Performance Hall

Inspired by stunning the state's landscape, the architects designed the 2,500 seat Delta Performance Hall to be reminiscent of canyons in Southern Utah. The colors of the walls, seats, and floor were all carefully selected to bring the red rocks to downtown Salt Lake City. The signature feature can only be found by looking up, where a star-field ceiling twinkles like a clear night sky.

Featuring the latest technology, the 50 foot wide stage in the Delta Performance Hall is equipped to host the latest national touring Broadway shows, concerts, comedy and other popular entertainment events.

Tin Angel at the Eccles

×

Tin Angel at the Eccles

Tin Angel at the Eccles is temporarily closed.

Black Box Theater and Lobby

×

Black Box Theater and Lobby

The Black Box Theater features 16-foot tall glass windows overlooking the new Pages of Salt installation on McCarthy Plaza. The Black Box ticketing windows and lobby are accessed from Regent Street, creating a distinct experience from the main performance hall. Acoustically isolated, the 2,400-square-foot, Black Box space is able to accommodate a variety of dance, music and theatrical productions as well as private, corporate and community events. Movable seating platforms allows the room to be configured for several types of occasions, accommodating between 150-250 people depending on the arrangement.